Entertainment
Bhool Bhulaiyaa 2 Hit Super Duper on Box Office| See Earning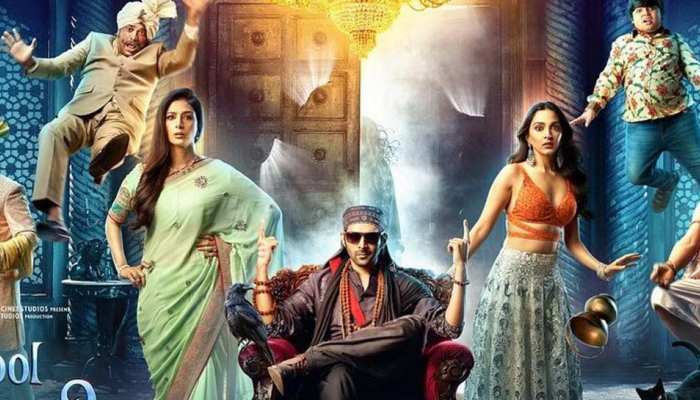 Bhool Bhulaiyaa 2 has been released in cinema halls on 20 May 2022. Kartik Aryan and Kiara Advani have stunned everyone with their acting in this movie. After the stupendous success of Akshay Kumar's Bhool Bhulaiyaa, there was speculation whether Kartik Aaryan will be able to fill his gap? Along with this, Rajpal Yadav has again told with his acting that even today he has the same acting skill as he used to be.
Yesterday, Bhool Bhulaiyaa 2 has done very well at the box office, due to which it is believed that no one can stop this movie from becoming a superhit. In Bhool Bhulaiyaa 2, you will get a chance to experience a lot of thrillers along with comedy tadka.
The entire star cast of the movie has left no stone unturned to make it a super hit. In such a situation, if you want to know the earnings of Bhool Bhulaiyaa 2 on the first day, then read the article completely.
Bhool Bhulaiyaa 2 Earns Rs.14.11 Cr on First Day[Only Hindi]
Bhool Bhulaiyaa 2 creates a miraculous success at the box office on the first day of release. It is found that on the first day of Bool Bhulaiyaa 2, this movie successfully earns Rs.14.11 Cr at the box office.
Rs.14.11 Cr earnings have been received from Bhool Bhulaiyaa 2 Hindi language only. On the second and third days of the movie's release, Saturday and Sunday is occurring, it is believed that this movie is now going to create a stir at the box office.
Shreedhar Pillai who is the Entertainment Industry tracker, Columnist & Writer, created a tweet on their Twitter handle in which he talks about the success and earning of Bhool Bhulaiyaa 2 at the Box office. Have a look at that tweet.
#BhoolBhulaiyaa2 roars at box office with a remarkable success on #Day1, opens at *Rs14.11 cr! pic.twitter.com/YvR1YBoe16

— Sreedhar Pillai (@sri50) May 21, 2022
Bhool Bhulaiyaa 2 Full Star Cast
Dear Users, all the star cast of Bhool Bhulaiyaa 2 is so impressive and full of a great actors!
Kartik Aryan as Dr. Neil
Kiara Advani as Reet Thakur
Rajpal Yadav as Chota Pandit
Tabu as Anulika, ManjulikaBaba
Sanjay Mishra as Jyotishi
Govind Namdev as baba
Friends, 14.11 Cr is the earning of 1 day in the Hindi language of Bhool Bhulaiyaa. Everyone is expecting that this film is going to earn a lot of money right now. I hope you find this article interesting and loving. You are reading the Khabarxp.com news article! Thank You!