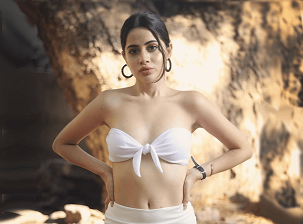 Today a video gets viral on the internet in which two internet stars were dancing together and fans called him "Bicchdi hui Behne". Today a video of internet sensation Urfi Javed and Rakhi Sawant video gets viral when they were celebrating a party that Urfi Javed reached 3 million followers on her Instagram handle. They were celebrating that with some other friends in Goa as always. It is very common that our internet sensation didn't troll by fans and media every month. It is very common for both of them to get trolled by fans and media both Rakhi Sawant are Urfi Javed are used to it. Scroll down the page and read the whole article till the end and you will get to know why they are celebrating and why this video gets viral on the internet.
Urfi Javed Celebrating 3M Followers on Instagram
Today a video is getting viral on the internet. In this video, both internet sensations do some tremendous dancing moves, and with her too hot to handle look both are set on fire. As reported by India.com Urfi Javed is celebrating because she reached 3 million followers on her Instagram account. Urfi Javed is wearing a white Colour dress and Rakhi Sawant is wearing a Black ruffle sari. Urfi Javed and Rakhi Sawant are dancing together. This party is celebrated in Goa.
In another video, it is seen that Rakhi Sawant is congratulating Urfi Javed on completing 3 million followers on her Instagram Handle. It has also been seen that Urfi is claiming to organize a huge party when she reaches 300 million followers on her Instagram account. This party will be organized in Dubai. Meanwhile, in the interview with News18.com Urfi Javed disclose her strategy to deal with social media trolling. She said I don't care who likes me or who doesn't like me. I don't care too much about people. I cannot force people to like me.
About Urfi Javed
Urfi Javed is an Indian Television actress. She was born in a non-practicing Muslim family. Urfi Javed is famous for her different fashion sense. She is always in limelight due to his unique fashion outfit. Urfi Javed was born on October 15, 1997, in Lucknow, Uttar Pradesh. She did her schooling at City Montessori School, Lucknow, and graduated from Amity University. She did Mass Communication at graduation. She worked in many TV serials like Chhaya in Star Plus's Chandra Nandini, Kamini Joshi in Saat Phero Ki Hera Pherie at SAB TV, and many more. She appeared in Bigg Boss OTT season 1 also.
I hope all of you get sufficient information related to this article and find this article helpful and interesting. For more updates and the latest information read articles on Khabarxp.com. THANK YOU!!