Breaking News
Agnipath Protest Became More Violent| Train & Buses Set On Fire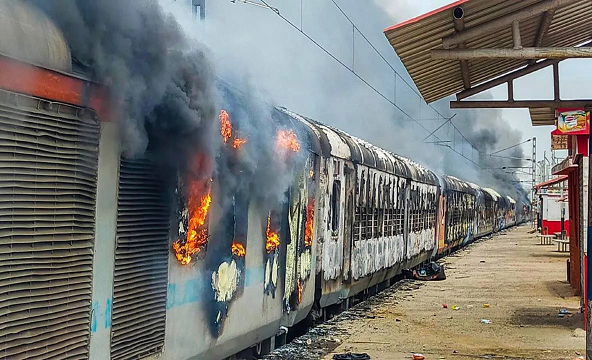 The ruckus over the Agneepath scheme has taken a very violent form. Protests are being held against this scheme in different locations of the country. Youth are involved in this protest, due to which an anarchy-like situation has arisen in the country. It is believed that the miscreants and the students are taking advantage of the occasion. They are continuously setting fire to buses and trains, causing massive damage to government property. Protests are being held against this scheme in 13 states of the country, after which questions have been raised once again on the security system of the country. Let me tell you that there is a tremendous protest being done in Bihar, due to which is creating an atmosphere of unrest. To get all updates about Agnipath Veer Voilance news stay tuned with Khabarxp.com
More Than 140 Have Been Arrested- AgniPath Scheme Protest
The police have also become active in the massive protests across the country. According to a report, it is believed that more than 140 people have been arrested, who spread violence. Along with this, the police have intensified the action to stop this protest. Lathi-charge is also being done by the police to stop the mob.
Heavy security in #Bihar's #Jehanabad as protests escalate against #AgnipathRecruitmentScheme.#अग्निवीर #Agnipath #AgnipathRecruitmentScheme #AgnipathProtests pic.twitter.com/tVSbfRwvez

— Hate Detector 🔍 (@HateDetectors) June 18, 2022
Internet Services Suspended In 12 Districts- Agnipath Violence
The government took an important decision during the Agneepath Protest, according to which internet services in 12 main districts have been closed till June 19. The names of those districts are as follows- Kaimur, Bojhpur, Sharan, Vaishali, Aurangabad, Rohtas, Baksar, Nevada, Lakhisaray, Begusaray, Samastipur, West Champaran.
Security Beefed Up In Uttar Pradesh
The situation in the country remains worrying after the riots across the country due to the Agnipath scheme. The protest has taken a violent form, after which the security system in Uttar Pradesh has been strengthened. The Police force has been deployed from place to place and an appeal is also being made by the government to maintain an atmosphere of peace.
#AgnipathProtests across the country are a conspiracy to destroy the India by an opposition party rejected by people

They are rattled as top leaders of the party are going to be arrested very soon by the EDhttps://t.co/BtlRt5YRTm #Bulldozers #Stop_Conversions #अग्निवीर

— CA RAJEEV GUPTA (@RajeevGuptaCA) June 18, 2022
Huge Loss Of Government Property Occurring
Angry students have damaged buses, trains, and other government vehicles. Not only this, but they also vandalized the goods in the stations and burnt them. Due to this, there is a huge financial loss for Govt.
You are on the Khabarxp.com official website. Here we provide the latest news all over the globe. You can visit our homepage to grab the latest news. Thank You for spending your quality time with us!