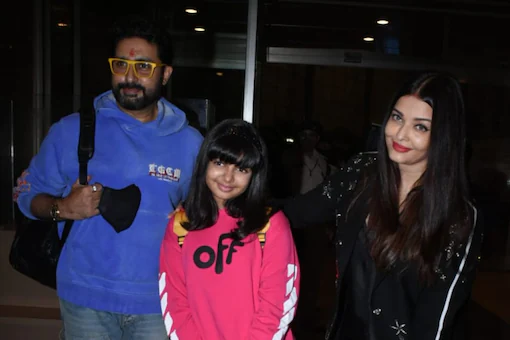 The daughter-in-law of Bachchan's family, Aishwarya Rai Bachchan was spotted at Mumbai airport on Tuesday. She was spotted at Mumbai airport in the wee hours with her husband Abhishek Bachchan and daughter Aaradhya Bachchan. Aishwarya Rai Bachchan snapped at Mumbai airport when she was going to attain the Cannes Film Festival 2022. This time her whole family is going with her to attain Cannes 2022. This is the 20th time when Aishwarya Rai Bachchan is going to the biggest Film Festival. This is the 75th edition of Cannes is Celebrating. This Cannes Film Festival is going to start on May 17, 2022, and ends on May 28, 2022, in Cannes, France. Scroll down the page and read the whole article you will find it interesting and get all the news related to Cannes 2022.
Cannes 2022 (Biggest Film Festival)
Cannes is the Biggest Film Festival organized in Cannes, France. Many Bollywood actresses go there to attain this Film Festival. This is a red carpet on which many actresses come and make headlines due to their Outfits. Several countries take part in this Cannes Film festival. India is chosen as the first country of Honour. This is the biggest mention that has been done by the Cannes Film Market. From India 5 movies were also selected which are going to be screened at the Cannes Film festival 2022. These Movies are Ek Jagah Apni (A Space of Our Own) by Ektara Collective, Shivamma by Jai Shankar, Bailadila by Shailendra Sahu, and Follower by Harshad Nalawade and Baghjan by Jaicheng Zxai Dohutia. These films are to be chosen to be screened in the biggest film festival of Indian Cinema.
Aishwarya Rai Bachchan and Cannes Relation
Aishwarya Rai Bachchan is attaining the Cannes Film festival for a very long time. This time it will be the 20th time Aishwarya Rai Bachchan going to Cannes Film Festival. Many times she attains Cannes with her husband Abhishek Bachchan. For Cannes 2022 her daughter is also going. It has happened many times that Aishwarya Rai Bachchan wins many hearts on the red carpet with her beautiful attire. Whenever she walks on the red carpet she wears something different which becomes so popular and stoles many hearts with her gorgeous outfit. Sometimes her husband Abhishek Bachchan also walks on the red carpet as her partner. This time the body knows how many hearts are going to be stolen by Aishwarya rai Bachchan on the red carpet area.
Celebs Going to Attain Cannes 20222
Many Celebs from Bollywood going to attain this Cannes Film Festival. Not only actresses from Bollywood but many actors also attain the Cannes Film festivals. As per the media and sources, this time actress from Bollywood like Deepika Padukone, Pooja Hedge, Hina Khan, Aditi Rao, Helly Shah, and Nayanthara will be making their presence in this Biggest Film Festival.
I hope you find this article helpful and interesting and got all the news related to Cannes 2022. For more updates and the latest news read the articles on Khabarxp.com. THANK YOU!!