Meanwhile, as we all know that there is a little war going on between both film industries after a statement of Mahesh Babu about the Bollywood industry in the middle of this Salman Khan announced something on Monday which will stop this war and make a strong bond Between Hindi Cinema and South Cinema. Salman Khan aka Bhai Jaan announced that he will launch South Superstar Kiccha Sudeep's movie 'Vikrant Rona' under his production Salman Khan Films (SKF). This is the first time that a South Superstar Kiccha Sudeep is working under the Salman khan production in Bollywood. Scroll down the page and read the whole story till the end.
About The Vikrant Rona Movie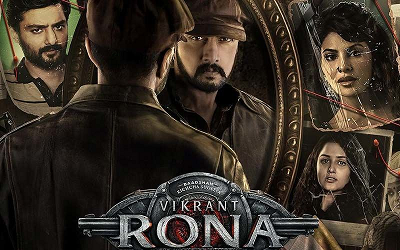 Vikrant Rona is a south Superstar Sudeep Kiccha's Movie. Vikrant Rona is going to launch in six languages (Kannada, Tamil, Hindi, English, Telegu, and Malayalam). This movie is going to launch across 50 countries around the globe. Vikrant Rona is a 3D action-adventure, mystery thriller movie. Which have been the most excepted films in the Country. The director of the Vikrant Rona is Anup Bhandari and Opposite Sudeep Kiccha in the female lead role Neetha Ashok and Jacqueline Fernandez launched. The movie is going to release globally and hit the theater on July 28, 2022. In the movie, the Sudeep Kiccha plays the role of the titular character of Vikrant Rona aka the lord of the dark. The teaser is launched of this movie and hits so many likes and got more than 14millions views on youtube. These numbers are still increasing.
Salmaan Khan and Kiccha Sudeep Friendship Bond
I am still spell bound by the visuals brother @KicchaSudeep Happy to present the Hindi version of #VikrantRona the biggest 3D experience in Indian cinema.@anupsbhandari @JackManjunath @SKFilmsOfficial @shaliniartss @InvenioF @ZeeStudios_ #VikrantRona3DJuly28 #VR3dJuly28 pic.twitter.com/C5ZJWvcfVK

— Salman Khan (@BeingSalmanKhan) May 16, 2022
Bollywood Superstar Salmaan Khan and South Superstar Sudeep Kiccha share a special friendship bond. As this friendship is also seen so many times on the big screen. Salmaan Khan shares the screen with Sudeep Kiccha in his Film Dabangg 3 in the year 2019. Sudeep kitchen is a co-star of Bhai Jaan from 2019's. Superstar Salmaan Khan last month revealed the Hindi version of Vikrant Rona. He took the help of his social media handle to share the details of this collaboration with South Superstar and his friend Sudeep Kiccha. This is the first time that South Superstar Sudeep Kiccha's movie is going to launch under underproduction by Salmaan Khan Films (SKF). Vikrant Rona is a Kannada movie that is released in five other languages. This movie is going to launch Pan India as well as many other countries also.
I hope you find this article helpful and interesting. Stay tuned, stay connected, and for more updates and the latest news read the articles on Khabarxp.com. THANK YOU!!