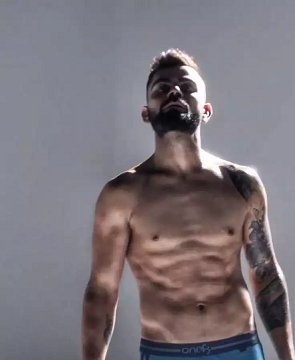 Virat Kohli is a name that needs no introduction. Virat is a very fit and agile athlete, which he has proved with his fielding. This former captain has taken India very far in the field of cricket in the world. The fan following of Virat Kohli is very high all over the world. You can guess this from the fact that he has 195 million+ followers on his Instagram account. Virat is very fond of workouts. He loves to sweat in Gym. He says that exercising in Gym keeps his stress away. Virat Kohli also exercises with his wife Anushka Sharma in the Gym.
Virat Kohli has recently shared a video of the exercise on his social media account, seeing that even Anushka Sharma could not stop herself and she made comment on that video by calling Virat 'Hottie'.
Everyone knows about the female fan following of Virat Kohli. Virat is a very smart, handsome, and stylish cricketer. Seeing his workout video, his female fan following has also become very happy. If you guys also want to watch that video then read this blog till the end!
About Virat Kohli's Personal Life
33-Year-old Virat Kohli was born on 5 November 1988. His Nik name 'Cheeku' is also very popular all over India. Virat Kohli is a RightHand batsman and right-arm medium bowler. Virat has captained the India International team in all three formats of cricket. For the past few years, his name came into the limelight with his girlfriend Anushka. And soon after that, both got married too. This popular couple Viruskha also has a daughter named Vamika.
Virat Kohli's Workout Video
Virat Kohli recently uploaded a video on his Instagram account in which he is doing the upper body exercise. He looks dashing in that Video and on that video Virat's wife Anuskha also commented a single word 'Hottie'
Virat Exercise With Anushka Video
Many times Virat has been found exercising with Anushka Sharma at the gym. Virat shared a video in which this couple was exercising and sharing a good time!
Virat Kohli International Cricket Stats
Virat Kohli is the star player of the Indian Cricket Team. Virat Played 101 international Test matches in which he scored 8043 runs with an average of 49.96. Where in One Day international Virat scored 12311 by playing 260 matches with an average of 58.7 and having a strike rate of 92.92.
As we all know that Virat's correct form is not so good. He keeps getting out early. He has also been found struggling in IPL 2022. In such a situation, Virat's fans and the India team would like him to regain his form soon. I hope you liked this article. THANK YOU!