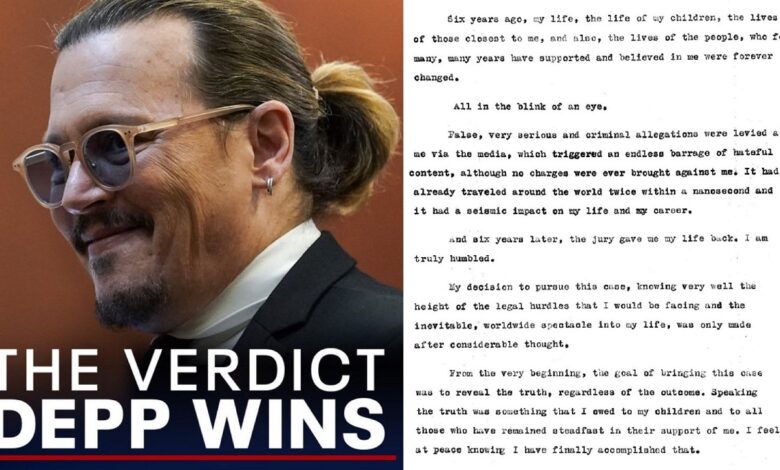 Finally Finally Finally, Johnny Depp successfully win the defamation case against his ex-wife Amber Heard. Wednesday is a great day for JD Fans as the Jury awarded Johnny Depp a total of $15 million in his libel lawsuit against ex-wife Amber Heard. Amber was also awarded $2 Million for Depp's Previous Lawyer calling her allegations 'a hoax'. Let me tell you that many celebrities had already come in support of Johnny Depp.
#YESYESYES #jonnydepp Won! #sohappy #yes So pleased for this #fabulous man. pic.twitter.com/IV8PHg8D8e

— Yvette Fielding (@Yfielding) June 1, 2022
Rains of hashtags trending on Twitter that are in support of Johnny Depp. Few of them are 'YES YES YES', 'MenToo', 'JusticeForJohhnyDepp', 'TruthWins'etc. Amber Heard who is the ex-wife of Johnny Depp, filed a case of defamation against his ex-husband. If you know now, this case is going on not from today but from 2018. Johnny's ex-wife narrated her pain on Instagram after losing the case. To know more about this news then read this news blog till the end!
june 1st 2022, after 6 years johnny won, he did it. he told the world his story and the world believed him. we are all beyond proud of you johnny <3 #JusticeForJohnnyDepp #TruthWins pic.twitter.com/7hwuumxPhz

— eva 🏴‍☠️ (@stoneyeilish) June 1, 2022
Sad Amber Heard Instagram Post
Sad Amber Heard expressed her pain on her Instagram account after losing the case. She typed a long message in which she shared his pain with his fans and Instagram followers. She said that 'the disappointment I feel today is beyond words, I'm heartbroken……' Have a look at her Instagram post!
Johnny Depp's Instagram post After Winning The Case
Happiness is visible in you and your family after your ex-wife wins the case against decomposition. Johnny Depp also posted In their though on their official Instagram handle. In this post, he remembers six years of their struggle and downs because of this case which is filed by Amber Heard. Also, he talks about his children and his belief in truth in that Instagram pots. Have a look at the original post he creates!
Johnny Depp posted a very heart-touching post in which he talked about the new beginning and new chapter of Life. This case seems to be coming to an end now. Johnny Depp and Amer Heard's fans support their stars.
Friends, I hope that with the help of this news article, you will get all the information about Johnny Depp and the Amber Heard case. If you have any questions or suggestions regarding our news blog then feel free to comment it down below the comment section. You are reading the Khabarxp.com news article.