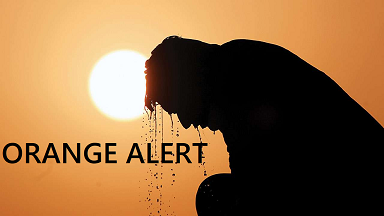 The states settled in North India are facing scorching heat. People are suffering due to heat and even coolers and fans in the house are not able to give any relief to any people. This year's summer is breaking the record of every year. The weather forecast predicts that the weather will get hotter. In such a situation, this state is considered to be the hottest state of the day. Not only this, an orange alert has been declared in this state. That state is none other than Delhi. On Sunday, Delhi's temperature was calculated to be 47 degrees Celsius, after which an orange alert has been sounded there. In most of the locations of Delhi, it was found that the para is near about 47 degrees some of these locations are Mungeshpur Najafgarh, Safdarganj, and so on.
Not only Delhi, according to three days to report it turns out that Uttar Pradesh Banda temperatures hit 47.2 degrees c. Furthermore, In Rajasthan, Odisha, and Lucknow, the heat is also at its peak.
What is Orange Alert| Know Shortly
Let's know about Orange Alert in brief. There are four ways to show an alert in terms of weather by the medium of color. These four stages of showing an alert are, Green alert which means there is no need to take any action, Yellow alert means people need to get updated about the weather, Orange alert means people have to be prepared for upcoming bad weather and lastly Red Alert shows the time to take suitable action. Government Issues such alerts so that the public becomes alert in advance that there is no harm in any way.
Mahesh Palawat Tweet:
Mahesh Palawat who is the Vice President of Meteorology And Climate Change posted a tweet on their Twitter handle and tells about the Heatwave in the Delhi region and predict risen temperature on Monday
#Heatwave in Delhi. #Delhi #Safdarjung recorded 44.2 degree. #Maximum of #Mungeshpur in Delhi is 47.2 degree. May increase further tomorrow. Some respite on Monday due to #Dust storm and #thundrstorm. #DelhiWeather #DelhiHeatWave @SkymetWeather @JATINSKYMET

— Mahesh Palawat (@Mpalawat) May 14, 2022
Delhi's Hottest Places
| | |
| --- | --- |
| Location | Temperature(In Degree C) |
| Mungeshpur | 47.2 |
| Safdurganj | 44.2 |
| Pitampura | 46.4 |
| Jafarpur | 45.4 |
The Vice President of M&C has also predicted that the temperature of Delhi will increase further in the coming days.
I hope you find this article useful. Thank You for spending your quality time reading Khabarxp.com news.