Breaking News
'Rahul Hum Sharminda Hai' Slogan Goes On All Over India | Kashmiri Pandit Murder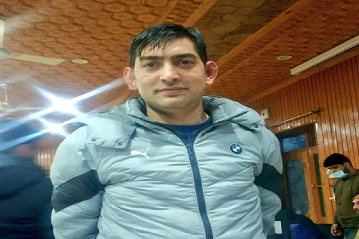 A Kashmiri Pandit named Rahu Bhatt was shot dead in Srinagar, Jammu. The terrorist organization that killed Rahul has been identified. To save itself at the international level, the name of an organizer named Tiger Kashimar is being taken in the name of Pakistan. After this incident, there is an atmosphere of outrage in the whole of India. Demonstrations are being held from place to place. And 'Vande Matram' 'Bharat Mata Ki Jaye' these types of slogans are taking place. This incident has once again raised a question mark on the security of Kashmiri Pandits.
Now the people of the Kashmiri community are demanding justice for Rahul Bhatt. People say that Rahul Bhatt should get justice and at the same time, Kashmiri Pandits should be given protection by the government as they are not feeling safe in Kashmir.
Altaaf Who's Jash E Mohammad Terrorist Carried Out This Case
It has been learned from the sources that this murder case was attributed to the terrorist Mufti Altaf of Jaish. Mufti Altaf urf Abu Jar created this terrorist organization whose name is Kashmir Tigers. But these are all formalities, it is completely believed that Pakistan is behind this incident. To save himself, he creates these local terrorist organizations.
Social Media is Burning After Rahul Bhatt's Murder
Social Media, is a platform where you can share your own thought freely in front of all over the globe. People are pleading for justice from the government through social media. Along with this, such tweets and posts are being made in which the anger of the people is clearly visible. On many TV channels too, a campaign to bring justice to Kashmiri Pandits has been started. SPO has also been murdered along with Rahul Bhatt who is a government employee. Have a look at the video
𝗞𝗮𝘀𝗵𝗺𝗶𝗿𝗶 𝗣𝗮𝗻𝗱𝗶𝘁𝘀 𝗦𝘁𝗮𝗿𝗲 𝗔𝘁 𝟭𝟵𝟵𝟬-𝗟𝗶𝗸𝗲 𝗦𝗶𝘁𝘂𝗮𝘁𝗶𝗼𝗻?

A day after community member Rahul Bhat's killing in Budgam, protest erupts, police lathicharge & fire tear gas shells

KPs resign en mass from govt jobs

FULL: https://t.co/RCN6eU3Jqx pic.twitter.com/36cPubVO0I

— The New Indian (@TheNewIndian_in) May 13, 2022
Rahul Bhatt Kashimi Pandit Family Statement
Rahul's father and brother and all the family members say that a proper investigation should be done in this matter and the culprits should be put to death. He has also questioned the government about the security and future of Kashmiri Pandit.
She is mother of Rahul bhat who was kil.led by I$lamic terro.rists in kashmir..
Rahul bhai hum sharminda hai tere ka.til zinda hai..
pic.twitter.com/YkLKVHHRpU

— Thor is back (@DevtaToofanka) May 13, 2022
I hope this news article helps you to collect all the news about Rahul Bhatt, a Kashmiri Pandit. If you love this blog then please share it with your family members. THANK YOU!