Nupur Sharma, this name has been in the news for some time now. Nupur has to face a lot of trouble after giving a controversial statement to Prophet Mohammad. Her own party BJP has expelled her from the party. Along with this, she has also been accused of inciting riots. After the terrorist threat from Al Quida, questions have also been raised about her security system. But after all this, now a popular personality has expressed grief towards Nupur Sharma. Also, on social platforms like Twitter, and Instagram, people have started a campaign to support Nupur Sharma. Many tweets are being written in support of Nupur Sharma. Let us tell you that senior BJP leader Uma Bharti has given a statement on Nupur Sharma.
Uma Bharti Supports Nupur Sharma Says This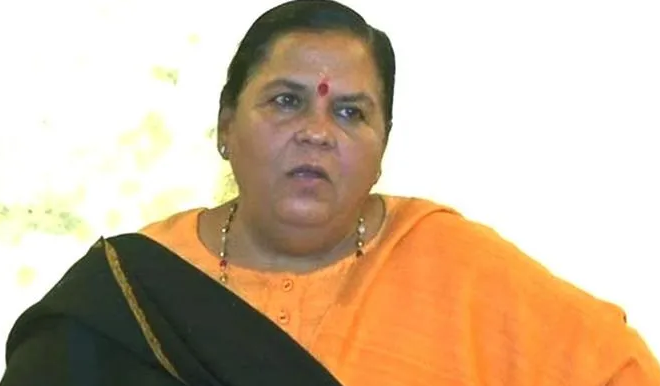 Uma Bharti gave a big statement on Nupur Sharma saying "Nupur Sharma is a very cultured, knowledgeable woman. It is not right to threaten to kill such a woman, it is wrong to say Rs 1 Cr to kill her. If the party has fulfilled its duty by expelling her, then the leader of the Muslim community should also refrain from such statements."
"Threatening to kill her, such statements should be condemned as well as arrangements should be made for their safety. May am very worried for Nupur Sharma myself because we have pushed her among the wolves. Uma Added!
People Came In Support Of Nupur Sharma On Twitter
Let me tell you that the opinion of the people about Nupur Sharma's statement has gone two-way. Some are condemning Nupur Sharma's statement and some are seen standing in her support. People are seen expressing their views on various social platforms. Looking at some of the tweets embedded below, it is clear that a section of internet users are supporting Nupur Sharma. Have a look at some tweets!
#Nupur_Sharma shook the entire Islamic World. pic.twitter.com/1I43FyMX9e

— Right Wing Nationalism (@rwingnat) June 10, 2022
This is why #NupurSharma is being called as Hindu Sherni Because she is not scared of speaking the truth #NupurSharmaControversy #JamaMasjid #HindusUnderAttackInIndia #Ranchi #Prayagraj #Nupur_Sharma #BlackFriday pic.twitter.com/zWltmpe0t1

— GyanGanga (@sarinmall85) June 10, 2022
Sorry friends this is neither Iran nor Iraq nor Syria… it's today's India.

Its the effigy today, if not punished immediately, soon it will be real people.

KHILAFAT movement lives even today. #NupurSharma pic.twitter.com/T2Hma8dI3W

— Vivek Ranjan Agnihotri (@vivekagnihotri) June 10, 2022
Only criminals and terrorists use street violence to express their religious intolerance and hate. Stop being tolerant to the intolerant. We cherish life, they cherish death. We support freedom and the heroic #NupurSharma is a symbol of our strength. Support her!

— Geert Wilders (@geertwilderspvv) June 11, 2022
Many such tweets are being posted continuously by people in favor of Nupur Sharma. After the recent Kanpur riots, UP's Current CM Mr. Yogi Adityanath has appealed to the people to maintain peace. Along with this, Yogi Ji has also intensified the action against the people involved in the Kanpur riots. Let us tell you that more than 50 people have been arrested for this violence till now.
Conclusion
I hope you have liked this news article. If you have any suggestions or complaints regarding any article published on Khabarxh.com, then please tell us below the comment section. You can also mail us, your query if any. Thank You for reading this new blog till the end! Thank You!