Breaking News
Will Avenge The Death Of Sidhu Moosewala In Two Days- Neeraj Bawana Gang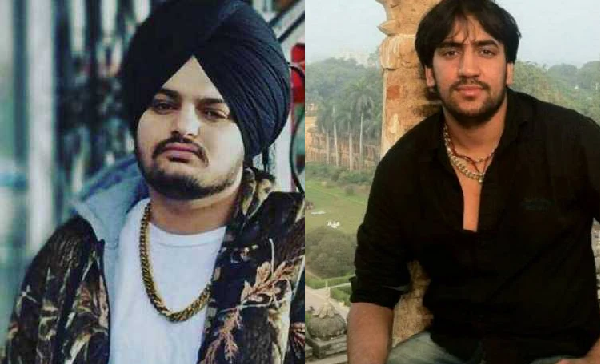 On date 29 May 2022, Sidhu MooseWala was shot and killed painfully, the responsibility of which has been taken by the Goldie Brar gang. A kind of reaction is coming out where the actors are not feeling themselves safe. Not long ago, a gang has spoken of taking revenge for Sidhu's death. Very recently on a Facebook account named 'Neeraj Bawana Delhi NCR', it was said to take revenge on Sidhu's death. . In fact, some time ago a story was posted on a Facebook account where it was said that the revenge for Sidhu's death would be taken within 2 days. It is believed that this Facebook story has been posted by the Neeraj Bawana gang. However, how much truth is there in this matter and how much is false, then you will know only after reading this article completely!
Sidhu Moosewala Death Revenge Complete Story
A Facebook story was posted by Neeraj Bawala Delhi NCR profile, he said in this story that 'Jai Baba Ki, a heartbreaking news received may God rest his soul, Rip Bhai'
He added, "Sidhu Musewala was the brother of our heart, will give the result within 2 days." After writing this much, he used three hashtags in his Facebook story(tillutajpuriyagang, koushalgurgoungan devendrabambiha group)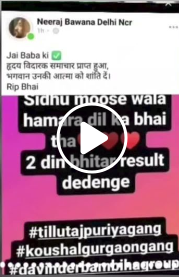 As soon as this story fell on Facebook, media on the internet started spreading this news. Let me tell you whether this post has not been confirmed by the Neeraj Bawana gang or not!
Who Is Neeraj Bawana?
Neeraj Bawana is known as one of the top-listed gangsters. Currently, Neeraj Bawana is in the Tihar Jail. However, what is the relationship of the Neeraj Bawana gang with Sidhu Moosewala, has not been disclosed yet. There is no base confirmation on this news yet.
One link after another is getting added in the Sidhu Musewala murder case. Let me tell you that 30 or more bullets were fired on Sidhu. After this, he was rushed to the hospital where the doctor declared him brought dead. Punjab CM Bhagwant Mann has spoken about the speedy punishment of the culprits.
This post has been done from the account of the Neeraj Bawana gang, no proof of this has been found yet. However, the admin of that account has now deleted this story.
Hope you like reading Khabarxp.com news blogs. If you have any questions related to anything regarding our news blogs, then feel free to comment down below the comment section. THANK YOU!