Sports
MS Dhoni Chewing Bat Before Batting| Cheating or What?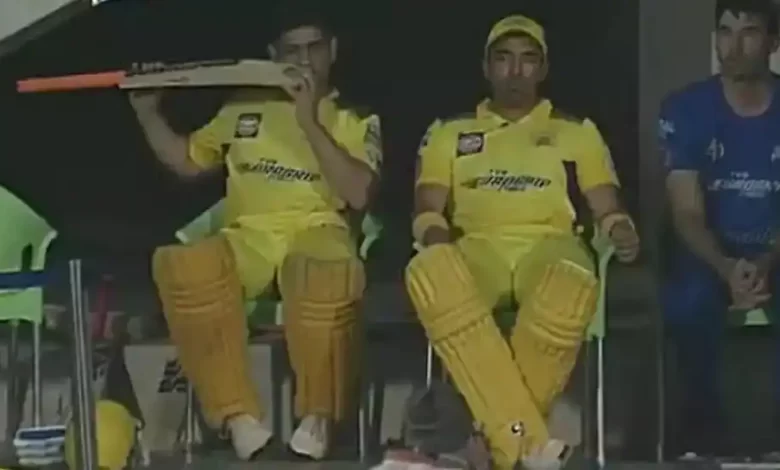 Mahendra Singh Dhoni is popularly known as Captain Cool of the Indian Cricket Team. This name does not require any introduction. A very successful captain of the Indian team, as well as their domestic Francies, named Chennai Super Kings. But, these days MSD's some pictures gonna viral on the internet. In that picture, MS Dhoni seems to be chewing their bat. So, there are many people asking a question about MS. Dhoni trying to make changes in their bat or trying to cheat on the cricket field. Our Captain Cool's photos become viral these days. If you also have such questions in your mind about why MSD Eating his Bat then do read this article. This article will help you to clear your all doubt about MS Dhoni's controversial images with the bat.
MSD Controversial Images While Chewing Bat
Here are some images which are found on the internet. In that images, it is real that MS Dhoni eating or chewing their bat. Before getting full information about that incident, first, see those pictures.
Story Behind Dhoni's Chewing Bat by Amit Mishra
Recently, Amit Mishra who is a former player of India's Cricket Team has recently posted a tween on their official Twitter handle. In their tweet, he tells the reason behind Ms. Dhoni's bat chewing pictures. Have a look at that tweet in which Amit Mishra discusses Dhoni's bat eating habit.
Amit Mishra Tweet On Dhoni's Bat Eating Habit
Amit Mishra discloses the reason behind Dhoni's bat chewing habit from the medium of their Twitter handle. Have a look at there Tweet he posted!
In case you're wondering why Dhoni often 'eats' his bat. He does that to remove tape of the bat as he likes his bat to be clean. You won't see a single piece of tape or thread coming out of MS's bat. #CSKvDC #TATAIPL2022

— Amit Mishra (@MishiAmit) May 8, 2022
MS Dhoni Bat Eating End Of Controversy
In the Twitter post of Amit Mishra, it is clear that Dhoni;'s used to chew their bat to remove the tape from the bat. Because he wants to make his made neat and clean. During the match of Chennai Super Kings Vs Delhi Capital, it is found that Dhoni is chewing the bat. The cameraman took shots of that incident. After that numerous questions are going to ask by cricket fans. This is the reason Amit Mishra told the reason behind their habit of Dhoni.
Dear Dhoni's super fans, I hope this article news can able to clear your all doubt about Dhoni's bat-eating incident. Dhoni is always known for his fair gameplay and his reputation will remain the same forever. I hope you love this news article. If yes then please share it with your dear ones.