Breaking News
Uttarakhand Bus Accident: Bus Going to Yamunotri Fell Into A Ditch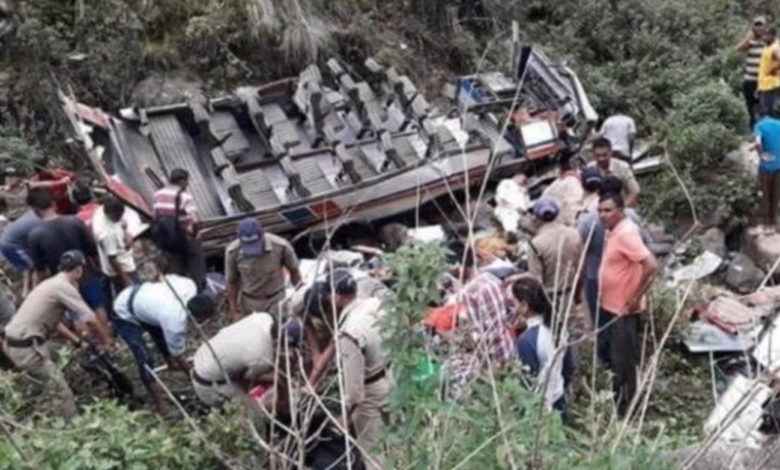 A tourist bus going to Char Dham Yatra fell into a ditch in Uttarakhand. The bus is going to Yamunotri Dham. There is 28 pilgrims and two crew members total of 30 people traveling in a bus and a bus fell down into a ditch while going to Yamunotri Dham. 26 peoples were dead and 4 people were injured. The injured people were admitted to the Dehradun hospital. This accident happened on the Yamunotri National Highway near Damta. Uttrakhand CM Pushkar Dhami gave orders to inquire about this accident. Narendra Modi, Prime Minister of India expressed his condolence to all the persons who died in this accident and said God rest his souls. To know more about this news just scroll down the page till the end and you will get all the important information related to this news article.
Information About The Accident
A tourist bus having 28 pilgrim and 2 crew members were traveling to the Yamunotri Dham in Uttarkashi for the worship of God but he fell into a ditch. At Yamunotri National Highway near the Damta, a bus fell into a 150 m deep ditch 26 people died and 4 people were injured. All the injured people were admitted to the Dehradun hospital for treatment. On the bus, there are mostly pilgrims from Madhya Pradesh.
according to the officials on Sunday evening Purola Police Station received information about this accident. Where the bus fell into the gorge comes under the Purola police station area. Immediately after getting this information, State Disaster Response Force (SDRF) has involved in rescue and relief operations. There are many other backup teams from Mori, Chakrata and Ujeli also sent to the spot for rescue operations.
Uttarakhand CM Pushkar Dhami Ordered Investigation
कल उत्तरकाशी के डामटा क्षेत्र में हुई दुर्भाग्यपूर्ण बस दुर्घटना की सूचना प्राप्त होते ही अतिशीघ्र राहत और बचाव के कार्य शुरू कर दिए गए थे जिसकी मैं स्वयं प्रति पल समीक्षा कर रहा था। pic.twitter.com/nRMMCEY2I5

— Pushkar Singh Dhami (@pushkardhami) June 6, 2022
After hearing about this incident Uttarakhand Chief Minister Pushkar Dhami ordered an investigation into the accident. He immediately ordered all the top offices to be employed. Pushkar Dhami Uttarakhand CM express his condolence and said God give enough strength to his family man to bear this pain and may God give place to the souls of the dead at his feet.
Prime Minister Narendra Modi and Home Minister Amit Shah's Statements
The Prime Minister has announced an ex-gratia of Rs. 2 lakh each from PMNRF for the next of kin of those who lost their lives in the accident in Uttarakhand. The injured would be given Rs. 50,000 each.

— PMO India (@PMOIndia) June 5, 2022
Narendra Modi Prime Minister of India and Amit Shah Home Minister of India expressed condolence. Prime Minister Narendra Modi announced to help financially also. Rs 2 lakh will be given to the kinsmen of those who were killed in this accident and 50000 rupees to the injured from the Prime Minister Relief Fund.
उत्तराखंड में श्रद्धालुओं की बस के खाई में गिरने की सूचना अत्यंत दुःखद है। इस पर मैंने मुख्यमंत्री @pushkardhami जी से बात की है। स्थानीय प्रशासन व SDRF की टीमें बचाव कार्य में लगी हैं और घायलों को उपचार के लिए नजदीकी अस्पताल ले जाया जा रहा है। NDRF भी शीघ्र वहाँ पहुँच रही है।

— Amit Shah (@AmitShah) June 5, 2022
we hope all of you find this article helpful and interesting and get all the important information related to this news article. If you have any comments please comment in the comment section. For more updates and the latest news read articles on khabarxp.com.
!!THANK YOU!!